ABOUT THE SHOW
The Atlantic Heavy Equipment Show is returning to Moncton! Featuring all the equipment, services, and technology to get the biggest jobs done with ease. Tons of big iron will be on display to showcase the industry's leading companies and newest products. Don't miss this unique opportunity!
Exhibitor Categories
Aggregates/Screening /Crushing

Asphalt

Concrete

Earthmoving /Roadbuilding & Material Handling

Engines, Components, Drivetrains

Equipment Solutions

Hauling

Infrastructure Maintenance

Jobsite Safety

Jobsite Support & Tools

Land Clearing

Logging /Forestry Operations

Lifting /Aerial /Cranes

Municipal Equipment

Operator Awareness

Personal Safety

Portable Power

Snow & Ice Removal

Technology Solutions

Traffic Safety

Trucking /Transportation

Underground Construction
EXHIBIT PACKAGE & PRICING
UNBEATABLE EXHIBIT VALUE
Your booth package includes:
8' drapery backwall & 3' drapery sidewalls

Standard colour booth carpet

Forklift service up to 5,000 lbs

Unlimited personalized complimentary pre-registration forms to give your best customers, so they can pre-register for a FREE show pass

Computerized registration system

24-hour security

Unloading and reloading of all crated and uncrated shipments from trucks

Handling of inbound and outbound shipments of exhibitor materials

Removal and storage of empty exhibit crates during show move-in and the return of crates at show closing

General cleaning of booths before each show day, including vacuuming carpet

Listing in the Official Show Guide and on the show website
Booth Pricing:
100 – 700 sq. ft. $12.50 per sq. ft.
800 – 1900 sq. ft. $6.85 per sq. ft.
Over 2,000 sq. ft. $5.50 per sq. ft.
100 sq. ft. (10'x10') minimum
Pricing for outdoor exhibits is available upon request.
Book Space
Email your Space Rental Agreement, please click the "Download" button to get a copy of the agreement then send it in to us using the information on the form. To fill out the Space Rental Agreement online, please click the "Online" button.
EXHIBITOR MANUAL
This "Exhibitor Manual" has been designed to make participating in the show as simple as possible. We have tried to cover every need your company may have in this event, including move-in and move-out information, exhibitor rules and regulations, and detailed contact information for show services contractors, along with the forms necessary to order these services. The most important page in this manual is the "Show Checklist" at the beginning. It is essential to carefully cover all of the items on this page as several of these items are "time sensitive", in that they may include fast-approaching deadlines and/or discounts for ordering early.
Exhibitor List
Abtech
Action Car and Truck Accessories
ALPA Equipment
AMI Attachments
Applied Pressure Inc
Atlantic Chemex Limited
Atlantic Coastal Equipment
Atlantic Hardchrome
Atlantic Used Oil Management Association
Bayview Kenworth
Blue Water Agencies
Britespan Building Structures - T.G. Mac Sales Inc.
Canadian Tracking Solutions
Central Tire Services Ltd.
Clarience Technologies
Cleanfix North America
Coast Tire and Auto Service
Colvoy Equipment
Commercial Safety College
Cooper Equipment Rentals
Cord King of Canada
CÔTÉ
Craig Manufacturing
Creighton Rock Drill
CWB National Leasing
DAC Industrial Engines Inc.
Da-Lee Pavement Products
De-On Supply Inc.
Diamond Products
DVL Publishing- Atlantci Forestry Review
East Coast International
Easy-Kleen Pressure Systems Ltd.
Echelon Supply and Service
Engine Armour Technologies
Elationtech
Equipements Plannord
Equipment Journal
GB Equipement Inc.
Green Diamond Equipment
Green Line Hose & Fittings
Grote Industries
Groupe Alltech
Groupe Gedic
Hangcha Canada / Brunswick Lift Rentals
Heavy Equipment Guide
Hi-Tech Communications
Hydrostatic Services Ltd.
Ideal Equipment Ltd
Jim Pattison Lease
Joe Johnson Equipment
Joe Johnson Equipment
K.G. Chase & Son Ltd.
Klondike Lubricants Inc.
Kubota Canada
Lawson Products
Levitt-Safety
Liftow
Linestar Utility Supply Inc NB
Log Max Forestry Inc
Log Max Quebec - Malwa Forest AB
Logging & Sawmilling Journal
Lounsbury Heavy Duty Truck Limited
LSW Wear Parts
Maritime Case
Maritime Tractor
MarketBook
Maskinen Inc
Metal Pless
Multi Radiator Services Ltd
Multiserve Petroleum Equipment
NB Road Builders Association
Norwood Industries Inc.
Nova International
Nova Truck Centres
Olofsfors Inc
On-Site Magazine
Onspot of North America, Inc
Ormac Industrial
Parts For Trucks
Parts Star Ltd.
Peterbilt Atlantic
Petro Canada Lubricants Inc.
Phil Larochelle Equipment Inc.
Petroleum Measurement Integrators Ltd.
Powerlift Hydraulic Doors of The Maritimes
Pro Fleet Care
Quadco
Quick Panel Industries
R&D Welding & Mechanical
Recycle NB
Revolver Screening Systems - T.G. Mac Sales Inc.
Ritchie Bros.
RMH Group
Robitaille Equipment Inc.
Rotobec
Rototilt Inc.
Rottne Canada Inc.
Safety First Contracting
Samsara
Sansom Equipment Limited
Saunders Equipment
Selco Equipment
Shoreline Lubricants
Shoule
Sinto Inc.
SNT Solutions Inc.
Soleno
Stairs Diesel Injection & Turbo Ltd.
Steelmac Ltd.
St. John Ambulance
Strictly Sales & Service
Strongco
Sunbelt Rentals
Supply Post
Tamtron Canada (Billed to E. Cummings Contracting Inc.)
Tarp-Rite Inc.
Tenco
The Gear Centre
Tidal Tractor
Timberparts Ltd.
Tirecraft Atlantic
Traffic Depot Signs and Safety
Trans East Trailers Ltd.
United Rentals
Urquhart MacDonald & Associates
Versa Capital inc
Waratah Canada
Weberlane MFG
Western Global
Casino New Brunswick
21 Casino Drive, Moncton, New Brunswick E1G 0R7
506-859-7770 (extension 2)

Room Rate: $179.99/night
Click Here to Reserve Your Room (Use code 240325ATLANTIC)

Canvas Moncton
55 Queen Street, Moncton, New Brunswick E1C 1K2

Room Rate: $169/night

Click here to reserve your room

Deadline to book: Tuesday, February 24, 2024
DATE, TIME & LOCATION
Wednesday, March 27
9:00 am - 5:00 pm
Thursday, March 28
9:00 am - 4:00 pm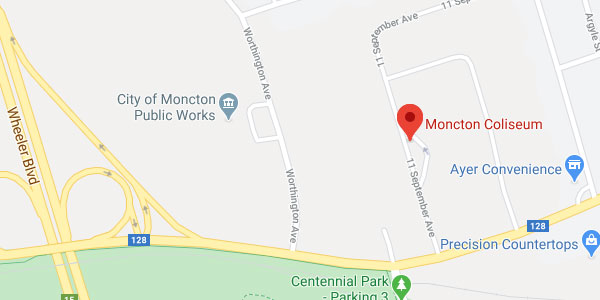 Moncton Coliseum Complex
377 Killam Drive, Unit 100
Moncton, New Brunswick
E1C 3T1
(506) 857-4100
SPONSORSHIP OPPORTUNTIES
Take advantage of this phenomenal opportunity to put your company name in front of the thousands of exhibitors and visitors who are part of this show every two years. Our sponsorship opportunities include multiple opportunity at a variety of price points - for you to find a way to enhance your experience at this years Atlantic Heavy Equipment Show. Don't see something that works - we are happy to work with you on customized options! Review the full Sponsorship Package now.