ABOUT THE SHOW
The Atlantic Heavy Equipment Show is returning to Moncton! Featuring all the equipment, services, and technology to get the biggest jobs done with ease. Tons of big iron will be on display to showcase the industry's leading companies and newest products. Don't miss this unique opportunity!
Exhibitor Categories
Aggregates/Screening /Crushing

Asphalt

Concrete

Earthmoving /Roadbuilding & Material Handling

Engines, Components, Drivetrains

Equipment Solutions

Hauling

Infrastructure Maintenance

Jobsite Safety

Jobsite Support & Tools

Land Clearing

Logging /Forestry Operations

Lifting /Aerial /Cranes

Municipal Equipment

Operator Awareness

Personal Safety

Portable Power

Snow & Ice Removal

Technology Solutions

Traffic Safety

Trucking /Transportation

Underground Construction
EXHIBIT PACKAGE & PRICING
UNBEATABLE EXHIBIT VALUE
Your booth package includes:
8' drapery backwall & 3' drapery sidewalls

Standard colour booth carpet

Forklift service up to 5,000 lbs

Unlimited personalized complimentary pre-registration forms to give your best customers, so they can pre-register for a FREE show pass

Computerized registration system

24-hour security

Unloading and reloading of all crated and uncrated shipments from trucks

Handling of inbound and outbound shipments of exhibitor materials

Removal and storage of empty exhibit crates during show move-in and the return of crates at show closing

General cleaning of booths before each show day, including vacuuming carpet

Listing in the Official Show Guide and on the show website
Booth Pricing:
100 – 700 sq. ft. $12.50 per sq. ft.
800 – 1900 sq. ft. $6.85 per sq. ft.
Over 2,000 sq. ft. $5.50 per sq. ft.
100 sq. ft. (10'x10') minimum
Pricing for outdoor exhibits is available upon request.
Book Space
Email your Space Rental Agreement, please click the "Download" button to get a copy of the agreement then send it in to us using the information on the form. To fill out the Space Rental Agreement online, please click the "Online" button.
DATE, TIME & LOCATION
Wednesday, March 27
9:00 am - 5:00 pm
Thursday, March 28
9:00 am - 4:00 pm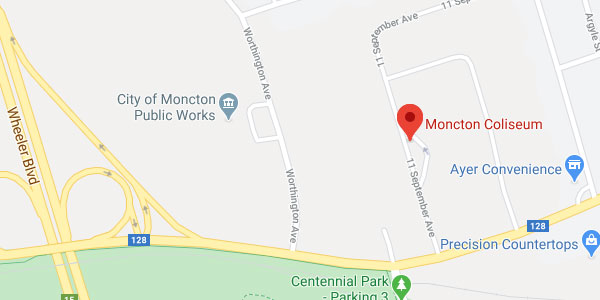 Moncton Coliseum Complex
377 Killam Drive, Unit 100
Moncton, New Brunswick
E1C 3T1
(506) 857-4100